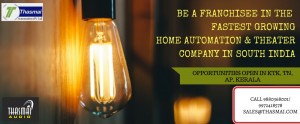 Automation in the consumer space is touted to be the next big multi-billion dollar industry, with the Internet-of-Things (IoT) becoming a buzzword in the business and investing community worldwide.
Thasmai is a fast growing Home Automation & Home Theatre integrator in South India with over 14 branches across South India. We are passionate, aggressive and hungry to grow into the largest Home Automation & Theater player in India. We have opportunities open in Andhra Pradesh and Telangana, Kerala, Goa and Tamil Nadu. Call +91 9880368001/9972418578 or write to sales@thasmai.com for more info!
If you are interested to join our growth story as a Franchisee, do write to us at sales@thasmai.com to get to know more about Franchisee terms and conditions. Thasmai will offer complete On-the-ground support to run the branches on Autopilot starting from
Hiring and Training of best employees for Branch Sales, marketing and project engineers
Central Marketing efforts in local city/Town (outreach to all architects), as well as individual lead generation in each town by area mapping, engagement with local media, as well as tertiary sources such as Website (Google, Maps), Facebook, and other social media. Thasmai will also secure top tier access to Just Dial, Sulekha and other directories to enable lead generation.
Central governance of daily Sales and Operations performance.
Quality Adherence by central Quality and Audit team for all internal processes in the branch (Quotes/DCs/Project Execution)
Customer Satisfaction (CSAT) measurement and feedback done from central CRM team, and also ensuring further lead generation
We are also looking for Investors to speed up our branch network, invest in exciting new solutions to create a pan India presence, if you're interested in investing in the next big growth story, do reach out to us at sales@thasmai.com
Vendors
Thasmai is renowned in South India as having the most aggressive sales force in the industry, if you want your brand to shine in the emerging Automation and Home Entertainment space, do join the bandwagon and we'll make sure your brand shares the spotlight as well! Please address any queries to sales@thasmai.com and we will get back to you at the earliest.